For nurseries, primary and secondary schools, and adult centres
These colourful resources are for learners of all ages and abilities, including young children (and their parents!) and those learning English as an additional language.

They are used to develop speaking and listening skills, vocabulary, general knowledge and time awareness. They are also used to teach learners to read words by sight and to focus on the meaning, and to work out the right sounds when they cannot read a word, and visualise and name the right letters when they cannot spell a word (through using a thorough knowledge of the keyspellings and non-keyspellings of English).

The resources are used in nurseries, primary and secondary schools, and adult centres with individuals, groups and classes (including deaf and blind learners, those with dyslexia, learning or speech difficulties, and those recovering from memory loss as a result of brain injury).
"Can YOU do all the eight phases in the English Phonics Chart Drill?"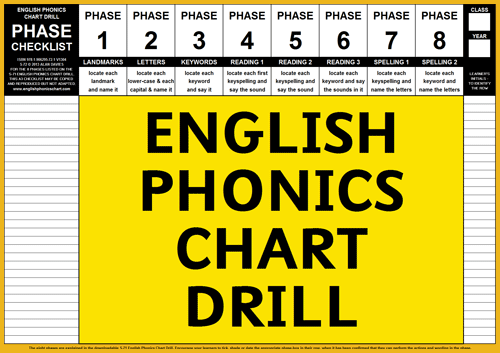 Why not try our English Phonics Chart Drill? Using an English Phonics Chart, practise the actions and wording in each phase until you can do all eight phases in one continuous solo/group performance - without any errors or prompting! How soon can YOU learn the drill?

ENGLISH PHONICS CHART DRILL VIDEOS
or download the zip files from Drill Videos